In this Civil War sci-fi musical, the Union soldier Julian Munro and the brilliant mathematician Ada Lovelace transcend time to invent an omnipotent steam-powered brain. Blending American indie-folk music with dreams of invention, FUTURITY explores a world where utopia seems within reach.
Notable dates
Recommended for ages 14+; Under 18 must be accompanied by a guardian or attend with permission of a guardian.
In celebration of the relaunch of the Harvard Square Business Association's Square Deals, Temple Bar has generously agreed to donate 5% of all proceeds from their Square Deal to A.R.T.! Check out the offer here and grab it while it is still available, and help support A.R.T. and the HSBA
Performance Sponsors:
Newbury Comics
ArtWorks
Credits
Creative team
Music by
Cesar Alvarez with The Lisps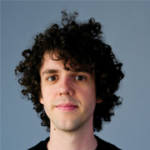 New York-based composer, lyricist, performer, writer and saxophonist. Founding member of The Lisps. Co-founder and resident composer of L.A.-based dance company Contra-Tiempo. Recent composition credits: Damned Beautiful for Helix Dance, Edinburgh Fringe; 3 2's; or AFAR by Mac Wellman, Dixon Place; Full Still Hungry for Contra-Tiempo, Ford Amphitheater. 2004 Meet The Composer/Van Lier Fellow. Interlochen Arts Academy 1997–99. Bachelor of Music from Oberlin Conservatory. Master of Fine Arts from Bard College.
Book by
Molly Rice and César Alvarez
Sarah Benson has been the Artistic Director of Soho Rep since 2007. At the A.R.T.: Futurity, Sophocles' Ajax. New York credits include: David Adjmi's Elective Affinities (site-specific); Gregory Moss' Orange, Hat & Grace (Soho Rep); Polly Stenham's That Face (Manhattan Theatre Club); Sarah Kane's Blasted (Soho Rep) for which Benson received a Drama Desk nomination and OBIE Award. Other credits include: Gregory Moss' House of Gold (Woolly Mammoth in Washington, D.C.). She has also worked on new plays at the O'Neill Playwrights Conference, New York Stage & Film and New Dramatists. Upcoming: World premiere of Richard Maxwell's Samara. At Soho Rep, Benson has commissioned and produced work by artists including David Adjmi, Annie Baker, Dan LeFranc, Thomas Bradshaw, Cynthia Hopkins, Jomama Jones, Young Jean Lee, John Jesurun, Nature Theatre of Oklahoma and Anne Washburn. This work has been recognized with six OBIE Awards, three Drama Desk nominations and The New York Times Outstanding Playwriting Award. Benson moved to New York from London on a Fulbright for Theatre Direction.
Choreographer
Annie-B Parson
Production Design
Emily Orling
Set and Costume Design
David Israel Reynoso
Lighting Design
Austin R. Smith
Sound Design
Matt Tierney
Music Supervisor
César Alvarez
Music Direction
Debra Barsha
Mechanical Percussion Design
Eric Farber
Associate Director
Meghan Finn
Assistant Choreographer
Chris Giarmo
Stage Manager
Kate Ailinger
Assistant Stage Manager
Cassie M. Seinuk
Assistant Lighting Design
Heather Smaha
Dance Captain
Aaron Schroeder
Music Preparation
Aimee Czura & Balint Varga
Cast
Julian Munro
César Alvarez*
The General
Edwin Lee Gibson
The Sergeant
Aaron Schroeder
Steam Brain Engineers/Musicians
Eric Farber
Ben Simon
Lorenzo Wolff*
Ezra/Scientist
Carl James
Japhy/Scientist
Michael Kane
Miles/Scientist
Milia Ayache
The Soldiers, Scientists, and Others
Matthew Christian, Liza Dickinson, Teri Gamble, Rose Hogan, Lindsey Liberatore
Futurity was developed in part through a commission from the Walker Art Center, and was developed in association with Christopher Maring and Rusty Thelin. Addition support provided by The Harold and Mimi Steinberg Charitable Trust.