Journey through the universe on Spaceship Earth with the Leonardo da Vinci of the twentieth century as your guide. Futurist, environmentalist, and geodesic dome designer Bucky Fuller takes us on an adventure through his life and times—from his childhood in Massachusetts, to his meeting with Albert Einstein, to his breakthrough moments of invention. A visionary who anticipated many of the challenges the world faces today, Fuller shows us how to save humanity and the planet by doing more with less.
Notable dates
Single tickets on sale to members: 11/30.
On sale to the public: 12/14.
Discussions
Bucky and Me: Hear from artists, scientists, and scholars about how R. Buckminster Fuller influences their work. View full schedule >>
Ann and Graham Gund
Restaurant Partner: Henrietta's Table
Credits
Cast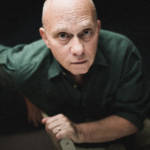 R. Buckminster Fuller
Thomas Derrah
A.R.T.: 119 productions, including R. Buckminster Fuller: THE HISTORY (and Myster) OF THE UNIVERSE (R. Buckminster Fuller), Cabaret (Fraulein Schneider), Endgame (Clov), The Seagull (Dorn), Oliver Twist (also at Theatre for a New Audience and Berkeley Repertory Theatre), The Birthday Party (Stanley), Highway Ulysses (Ulysses), Uncle Vanya (Vanya), Marat/Sade (Marquis de Sade), Richard II (Richard). Broadway: Jackie: An American Life (23 roles). Off-Broadway: Johan Padan (Johan), Big Time (Ted). Tours with the Company across the U.S., with residencies in New York, Chicago, San Francisco and Los Angeles, and throughout Europe, Canada, Israel, Taiwan, Japan and Moscow, and has recently been performing Julius Caesar in France. Other: I Am My Own Wife, Boston TheatreWorks; Approaching Moomtaj, New Repertory Theatre; Twelfth Night and The Tempest, Commonwealth Shakespeare Co.; London's Battersea Arts Center; five productions at Houston's Alley Theatre, including Our Town (Dr. Gibbs, directed by José Quintero); and many theatres throughout the U.S. Awards: 1994 Elliot Norton Prize for Sustained Excellence, 2000 and 2004 IRNE Awards for Best Actor, 1997 Los Angeles DramaLogue Award (for title role of Shlemiel the First). Television: Julie Taymor's film Fool's Fire (PBS American Playhouse), "Unsolved Mysteries," "Del and Alex" (Alex, A&E Network). Film: Mystic River (directed by Clint Eastwood), The Pink Panther II. He is on the faculty of the A.R.T. Institute, teaches acting at Harvard University and Emerson College, and is a graduate of the Yale School of Drama.
Actors' Equity Association member
Additional Staff
Stage Manager
Adele Nadine Traub
As the Production Stage Manager with the Actors' Shakespeare Project (where she is also the Manager of Artistic Operations), Adele Traub has worked on Timon of Athens, A Midsummer Night's Dream, The Duchess of Malfi, Merchant of Venice, The Tempest, Henry V, Love's Labour's Lost (both productions), The Winter's Tale, All's Well That Ends Well, Twelfth Night, King Lear (both in Boston and at LaMama in NYC), Julius Caesar, Measure for Measure and Richard III. Other stage manager credits include It Ain't Nothin' But the Blues, Capital Repertory Theatre, Albany; Man of LaMancha and 1776, Lyric Stage; La Clemenza di Tito, Opera Boston; Two Wives in India and The Salt Girl at Boston Playwrights' Theatre; Seven Rabbits on a Pole, Stoneham Theatre; Living Room in Africa and Dinner With Friends, Gloucester Stage Company; Life x 3, The Vineyard Playhouse; The Order of Things, CentaStage; Point of Departure, Huntington Theatre Company; and Kindertransport, New Repertory Theatre (Assistant Stage Manager). During her four years as Production Stage Manager at The Boston Conservatory, she worked on more than 40 productions with the Musical Theater, Dance, Opera and Orchestra departments. She received her B.A. from Brandeis University.
Actors' Equity Association member
Assistant Stage Manager
Chris de Camillis
A.R.T: thirty productions in fifteen years at A.R.T. as Artistic Coordinator/​​Resident Stage Manager. Broadway: Les Liaisons Dangereuses, Misery, It's Only a Play, The Glass Menagerie. Off-Broadway: Halfway Bitches Go Straight to Heaven; The Hard Problem, Pride's Crossing, Lincoln Center; Much Ado About Nothing, NYSF/​Delacorte; The Total Bent, Public Theater; Parable of the Sower, Public Theater Under the Radar Festival; Oliver Twist, TFNA. For Esch, Tommy, Jeremy, and Jan.
Production Associate
Sarah Gasser